Google Api Services Disclosure
INES use of information received from Google APIs will adhere to the Google API Services User Data Policy, including the Limited Use requirements.
Google User Data Access
When you install INES CRM Add-on your Google/Workspace account, you are asked to accept the following authorizations: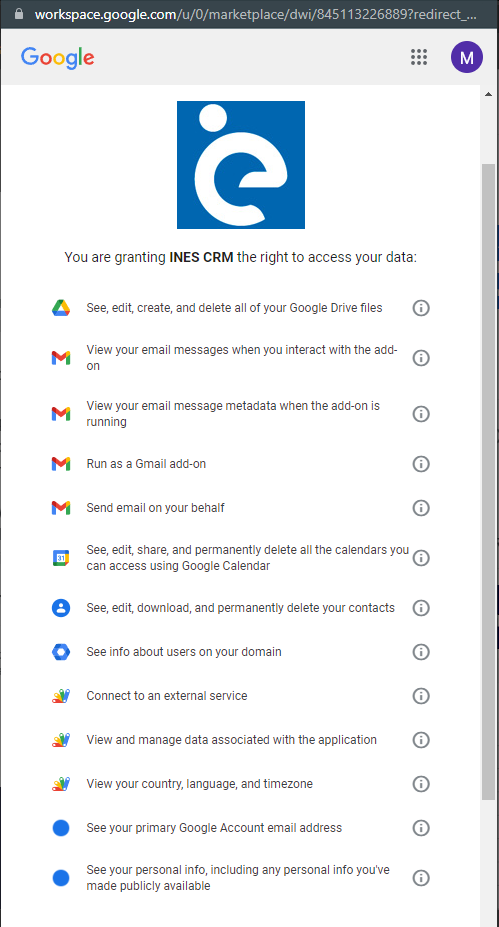 Why does INES need those permissions?
Google Drive
Attach any of your Drive files to appointments, tasks, clients, etc. on the CRM
To create Drive documents from the CRM.
Share any of your Drive files you choose with others (read only or edit mode)
GMail
To save your email on the CRM while using the Add-on
To send emails on your behalf from the CRM
Contacts:
Contacts synchronization between Google and INES
Calendar:
Appointments and tasks synchronization between Google and INES.
Data Storage
INES uses third-party cloud computing services to host its CRM platform and store and process CRM Data.
The security of your personal data is important to us.
INES has established policies and procedures that define the appropriate safeguards for protecting your sensitive information. These safeguards include the implementation and use of security software, security processes, and a team of security professionals that manages and monitors the security of the INES network and your sensitive data.
Which Google data we store?
Type of Data
What we store
Why
---
User Identification
GMail address and username
To identify you
---
Email
When you choose to save and email from the Add-on, we store
email body, subject and attachments
recipients email addresses
Allows you to access the email on the CRM
---
Calendar
The calendar synchronization stores:
Appointment id
Description, location, modification date
Start date and end date
Allows you to see and edit your Google calendar appointments on the CRM
---
Contacts
The contact synchronization stores:
Id
Names, addresses, notes, birthday
Phone numbers, emails
Organization
Allows you to see and edit your Google contacts on the CRM
---
Drive
When you choose to attach a Google Drive document to a CRM element (like company, contact, etc.) We store:
Resource Id
Name
Label (spreadsheet, document, etc.)
Allows you to see and visit the Drive files that are attached to CRM elements
Last updated: June 17, 2022